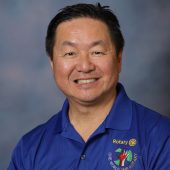 Executive Director Telehealthdocs Medical Group, Bakersfield East Rotary President 2019-20
Wade Has The Ability to Motivate and Instill Confidence…
Wade Nomura is an inspiration to anyone who meets him.  From humble beginnings to what he has become as a successful businessman and leader, Wade truly inspires everybody he meets.
His determination to always do better allows him to achieve his many accomplishments.
Wade has the ability to motivate and instill confidence along with his passion for helping people and the less fortunate.
There is no one I am aware of that does not admire and respect Wade Nomura.
I am honored to call him my friend!